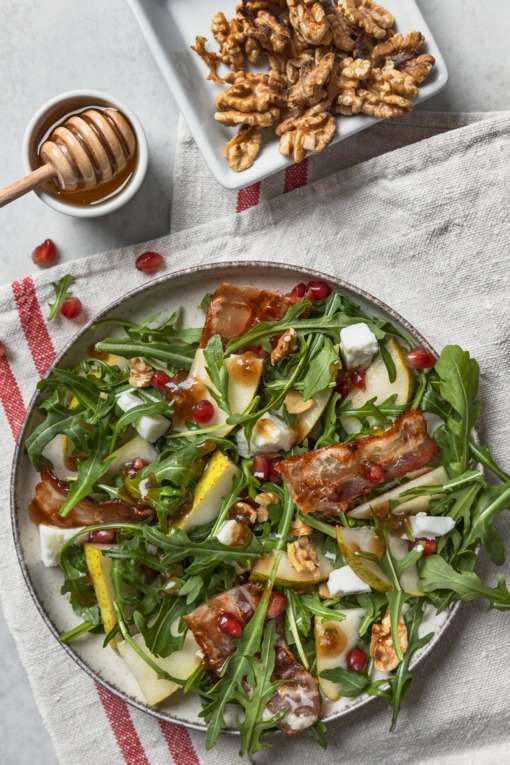 Wiosną sałatki w roli obiadu to doskonale rozwiązanie. To najprostszy sposób, by przy okazji sycącego posiłku dostarczyć sobie odżywczych witamin oraz mikro i makroelementów. A na dodatek są bardzo szybkie w przygotowaniu. Zrobienie takiej sałatki z kozim serem i boczkiem nie zajmie więcej niż 25 minut.
Składniki
na sałatkę
4 garście rukoli
1 dojrzała gruszka
6-7 plastrów surowego
wędzonego boczku
twardy kozi ser sałatkowy
2 łyżki prażonych
orzechów włoskich
łyżka pestek granatu
na sos
6 łyżek oliwy z oliwek
1 łyżka miodu
1 łyżka musztardy
1 łyżka octu balsamicznego
½ łyżeczki soli
Wykonanie:
Rukolę wypłucz, osusz i wrzuć na talerz. Gruszkę umyj, a następnie wydrąż gniazda nasienne, po czym pokrój ją na plastry lub jeśli wolisz, w kawałki. Rozdrobnioną gruszkę wymieszaj delikatnie z rukolą. Następnie na patelni podsmaż
boczek tak, aby zrumienił się z obu stron, po czym dodaj go do sałatki. Na wierzch wysyp pokrojony kozi ser oraz rozdrobnione orzechy.
Przygotuj sos. W tym celu zmieszaj ze sobą wszystkie składniki podane w przepisie do uzyskania jednolitej, gęstej konsystencji. Sałatkę polej sosem tuż przed podaniem.