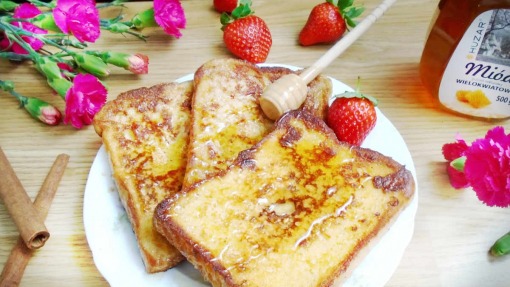 Tosty francuskie to sposób na szybkie, ciepłe śniadanie. Można je robić na wiele sposobów: na słodko i na wytrawnie. U nas oczywiście w wersji z miodem. Przepis na tosty pochodzi z bloga Zrób to smacznie.
Składniki na 4-5 tostów
1 jajko
3 łyżki mleka
1/2 łyżeczki cynamonu
2 łyżki masła
4-5 kawałków chleba
ulubiony miód do polania  – > na zdjęciu miód wielokwiatowy
Wykonanie
Jajko rozmieszaj w misce lub głębokim talerzu, wlej mleko i dodaj cynamon, a następnie wszystko razem wymieszaj. Na patelni rozpuść masło. Każdy kawałek chleba namocz z obu stron w przygotowanej mieszaninie.  Ułóż kawałki chleba na rozgrzanej patelni. Smaż około 2-3 minuty z każdej strony. Tosty powinny się lekko zrumienić.
Gotowe tosty ułożyć na talerzyku i polać miodem, opcjonalnie udekoruj ulubionymi owocami.