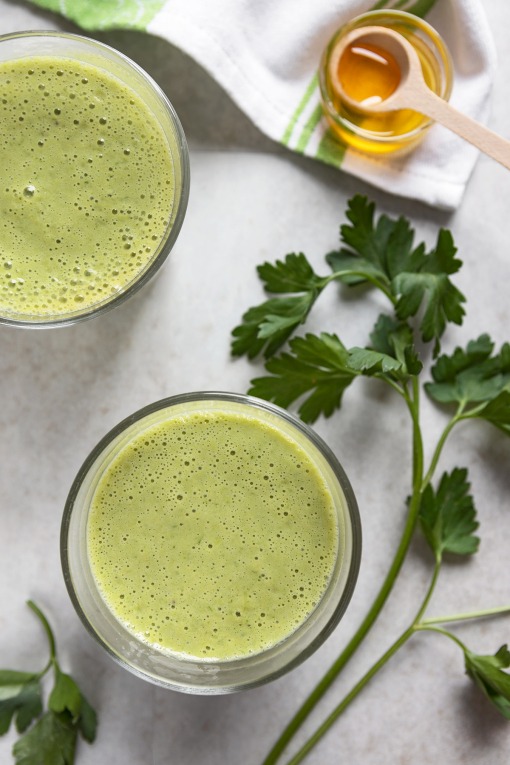 Koktajle to temat rzeka. Jeśli wyjść poza tradycyjne zestawienia owoców i nabiału można odkryć cały ocean możliwości kompozycyjnych. Niektóre zestawienia smakowe, chociaż dość nieoczywiste, zaskakują doskonałością swojego smaku. Tak ma się rzecz w przypadku połączenia pietruszki i banana z cytrusową nutą pomarańczy i słodyczą miodu lipowego. Przepis na koktajl z natką pietruszki to kolejna propozycja od duetu Absolutnie dobre. Sprawdźcie sami jak smakuje.
Składniki:
2 dojrzałe banany
300 ml maślanki lub kefiru
3 garście liści pietruszki
1 pomarańcza
Wykonanie:
Wszystkie owoce umyj i obierz ze skórek, a natkę pietruszki opłucz. Następnie podziel banany i pomarańcze na mniejsze kawałki, po czym umieść je w blenderze lub innym urządzeniu do rozdrabniania i zmiksuj. Kolejno dodaj maślankę lub kefir, miód i pietruszkę i jeszcze raz zblenduj do połączenia składników.
Gotowy koktajl  z natką pietruszki rozlej do szklanek i gotowe!
Najlepiej pić go zaraz po zrobieniu.